Ken Miles
President
Ken is the founding pastor of Kitchener-Waterloo Christian Fellowship in Kitchener and has served as its lead pastor since 1973. He has a passion for unity among churches, and is involved at a city-wide level in different capacities. He serves on the executive of the Kitchener-Waterloo Ministerial and hosts a daily radio program, Life in Balance. He has served as President of Anchor Ministerial Fellowship since 1992. Ken and his wife, Kay, have four grown children and six grandchildren.
Fred Morris, CFP
Secretary-Treasurer
Fred has been an ordained minister with Anchor since 1980. He became its Secretary-Treasurer in 1992. Throughout his ministry, Fred pastored churches in Hamilton and Ottawa, and in addition was the Associate-Minister at ERCF in Guelph. He has a passion for building strong communities and organizations – having served four terms as Councillor with the Township of Centre Wellington. Currently, Fred is a Certified Financial Planner and the owner of Vision Financial Services Inc. in Fergus. As the fellowship's Secretary-Treasurer his ministry now centers upon stewarding Anchor's administration and finances.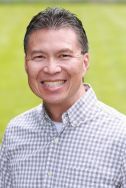 Norm Cheng
Vice President
Norm loves meeting and ministering to people! He has a heart and passion to share the Gospel thru Bible League Canada providing Bibles and discipleship training thru National Leaders doing Church Planter Training, Adult Bible-based literacy, and Children's Ministry working with the Persecuted Church in over 50 countries as the Area Director for Southwestern Ontario. He holds a Bachelors of Religious Education in Pastoral Care and Counselling from Emmanuel Bible College, and a Business Administration Certificate from Toronto Metropolitan University. He has worked as a Pastor's Assistant, a social worker, a counsellor in an abused women's shelter, and a provincial manager for Impactus - Promise Keepers Canada for many years. He is married to his best friend Charlene, and has 2 grown daughters and a grandson.

Judy Chiarot
Director
Judy joined the Board more than 20 years ago, while co-pastoring Faith Family Church with her husband, Paul, in Beamsville. She counts it a privilege and source of joy to serve on the Board, and to meet the wonderful, anointed and dedicated men and women of God who become part of Anchor. Judy desires to see Anchor's ministers edified and built up, so that they may do the work of ministering and building up Christ's body (Eph 4:12). Currently involved in traveling with her husband Paul to visit the ministries credentialed with Anchor; her heart is to come alongside ministers to aid and assist in any way the Lord instructs. They have three children and three grandchildren and reside in Hamilton.
Mark Kaulback
Director
Mark considers it a joy and honour to serve as a Director with Anchor, and loves connecting with the gifted men and women who make up its membership. He is passionate about seeing each member grow in their own giftings and abilities, and truly appreciates the diversity of ministers within Anchor. He and his wife, Lucie, pastor Wings of Fire Ministries in Hamilton, an inner healing and deliverance ministry. Mark has been licenced through Anchor since 1994, and is presently the Central/South-West Regional Director.
John Williamson
Director
John has been a member of Anchor for forty years and served as Vice President for thirty of those years, after which he took a short break and then was voted back on to the board again in 2021. John is the Founding Pastor of Faith Gospel Tabernacle Ministries in Brampton, Ontario which was established in January 1985.
In John's words, Anchor Ministerial Fellowship is the best kept secret in Canada but believes that this is about to change. John is married to his beautiful wife Christine, and they will be celebrating their fiftieth wedding anniversary this year. They have four boys and eleven grandchildren.
Adam Wolcovitch
Board Member
Adam has been a member of Anchor for the past decade. He currently serves as the Lead Pastor of Kingston Christian Fellowship in Eastern Ontario. Adam also has the honour of leading the Kingston Pastor's Ministerial. He has a heart to support and encourage leaders and a passion to see everyone living in the fullness of their God-ordained purpose. Adam believes we are living in exciting times and that we've been called for such a time as this. He is fully engaged to see this generation rise up, be equipped, and make an impact in the earth.
Heath (Bud) Gillam
Honorary Board Member
Jeremy Doorten
Executive Director
Jeremy began serving on the Anchor Board in May 2018. After several years, Jeremy stepped into the role of Chief Administrative Officer modernizing the systems and structures of the 50+ year old Fellowship. With a growing heart and vision for the Fellowship, Jeremy was appointed as Executive Director of the Fellowship June 1, 2022. It is Jeremy's heart to grow the Fellowship to new regions and bring awareness to the effectiveness & necessity of having a healthy spiritual covering as found in Anchor Ministerial Fellowship.
Additionally, Jeremy serves as the Executive Director of e3 Ministry Canada & I Am Second Canada having pioneered the work in Canada starting 2009. Over the past 20 years, Jeremy has been part of seeing churches established in 30+ countries around the world. e3 Canada's dynamic staff across the country actively train and equip the body of Christ with simple tools to reach the lost and show them strategies to gather people around the Word of God and establish churches. Whether on stage as speaker, musician or one on one, Jeremy is most passionate about seeing the lost won for Christ.